https://www.thecanary.co/2017/06/21/queen-delivered-extraordinary-snub-theresa-may-last-time-happened-government-collapsed/
The Queen has delivered an extraordinary snub to Theresa May. Last time this happened, the government collapsed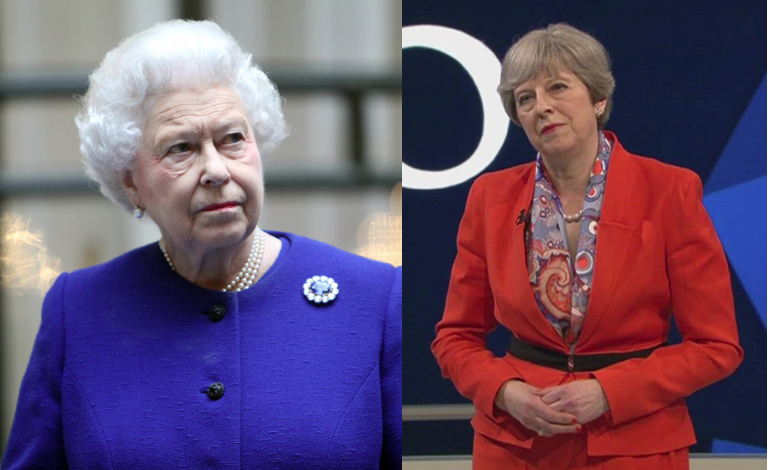 In scenes not witnessed since 1974, the Queen's Speech has been reduced to little more than a press conference. The super-casual Queen's speech is a snub Her Majesty has never deployed since, until now. The echoes of history are loud and clear.
Deal or no deal
Having lost her party's majority in the 8 June general election, Theresa May has been clinging to Number 10 like moss. First she announced she had done a deal with the homophobic, anti-abortion, climate-change deniers of the DUP in order to get her audience with the Queen on 9 June. Shortly after, we discovered there was no deal. One day later on 10 June, the May team again announced its deal with the DUP was complete. The DUP once again informed the press no such deal had been done, and May's office stated the announcement of a deal was made 'in error'.
The morning of the Queen's speech, in which the government declares what it will deliver over the course of the next parliament – still no deal had been done. Theresa May promised that a Labour win on 8 June would lead to a "coalition of chaos". This is a campaign slogan that aged as well as "strong and stable". Because she has only managed to deliver the chaos, and not the coalition.
You have to ask: if this Prime Minister can't strike a deal with 10 DUP MPs, how on Earth will she be able to negotiate Brexit with 27 countries?
The super-casual Queen's speech
And so we have this facade of a Queen's speech. The pretence so thin that the Queen can't even be bothered to dress up for the occasion. As the BBC reports:
The Queen will arrive at Parliament in a car, rather than horse-drawn carriage

There will be no royal procession into the House of Lords chamber and the Queen will wear "day dress" rather than robes

Her crown will be driven to the Lords in its own car, but she will wear a hat instead
The excuse is a diary clash with Trooping the Colour. As anyone who knows anything about the monarchy will know, the monarchy doesn't downscale the opening of parliament due to a diary clash. This hasn't happened since 1974, so what was happening then? Something surprisingly similar, it turns out.
Enfeebled Conservative leader Edward Heath called a snap election with a close result. He attempted to form a government with the Liberals, which started off promising but later fell apart. Heath was forced to resign and Labour leader Harold Wilson became Prime Minister, forming a minority government.
History may very well be repeating itself.